03/12/2020 – Failed it to Nailed it! How to get data sharing right! – Data Citations & Publishing
3rd December 2020 @ 1:30 pm

-

4:45 pm

Free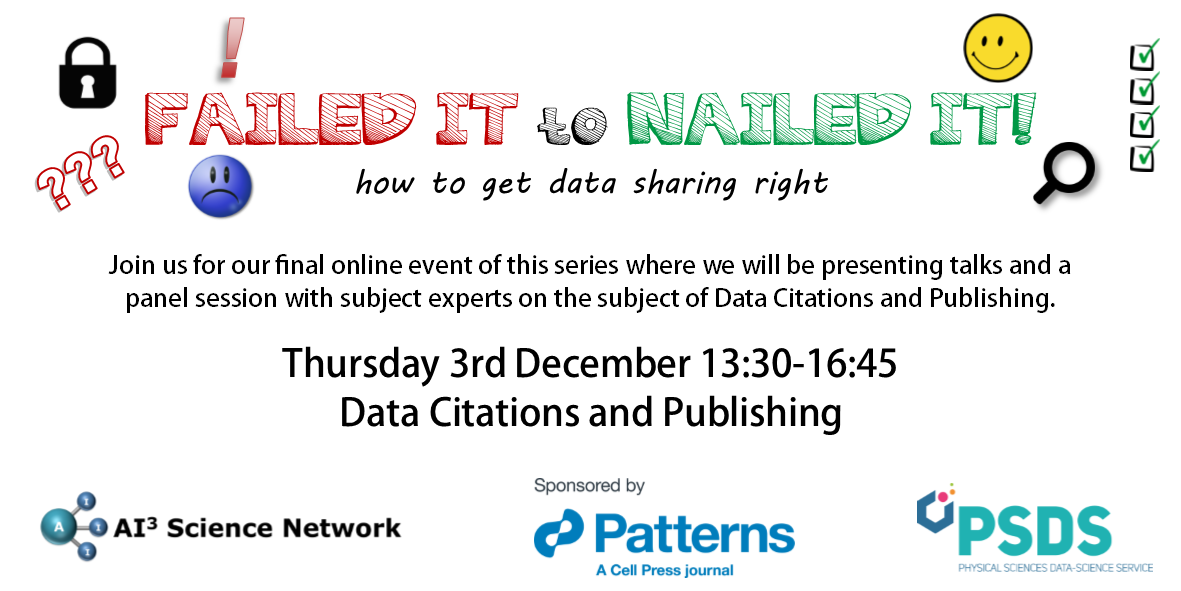 Eventbrite Link: https://fi2ni-datapublishing-031220.eventbrite.co.uk
This event forms part of the 'Failed it to Nailed it – Getting Data Sharing Right' series. This series is run by the Artificial Intelligence for Scientific Discovery Network+ (AI3SD), the Cell Press Patterns Journal and the Physical Sciences Data-Science Service (PSDS). These events are a product of the data sharing survey we ran earlier this year.
Description
This event is the last of our four online events in our current 'Failed it to Nailed it – Getting Data Sharing Right' series. In this event we aim to provide information and advice on different areas of data publishing and data citations. There will be talks on data publishing, data citations and supporting information for publications. We will also be running an interactive panel session with all of the speakers for discussion around the different issues in these areas.
Agenda
13:30-13:45 – Introductions & Coffee

13:45-13:50 – Welcome Talk

13:50-14:20 – Data publication – a personal tale – Dr Sarah Callaghan (CellPress Patterns)
14:20-14:50 – Publishing and citing data in practice – Mr Jez Cope (British Library)

14:50-15:20 – Coffee Break

15:20-15:50 – The (long) journey from supporting information to Publishing and Finding FAIR data in chemistry – Professor Henry Rzepa (Imperial College London)

15:50-16:35 – Panel Session with Speakers

16:35-16:45 – Sum Up & Close
Abstract & Speaker Biographies
Data publication – a personal tale – Dr Sarah Callaghan: In this talk, I will discuss the theory and practice of data publication both from the perspective of an academic journal editor, but also as a scientific researcher who created datasets, and who got scooped. I'll touch on the importance of data management and data citation, and give an overview of how data publication has grown over the past years, and where we want to be heading in the future.
Bio: Sarah comes to Patterns from a 20-year career in creating, managing, and analyzing scientific data. Her research started as a combination of radio propagation engineering and meteorological modeling, then moved into data citation and publication, visualization, metadata, and data management for the environmental sciences. She was editor-in-chief of Data Science Journal for 4 years and has more than 100 publications. Her personal experience means she understands the frustrations that researchers can have with data. She believes that Patterns will bring together multidisciplinary groups to share knowledge and solutions to data-related problems, regardless of the original domain, for the benefit of humanity and the world.
Publishing and Citing Data in Practice – Mr Jez Cope: Sharing data, whether openly or on a more restricted basis, is increasingly expected of researchers in many areas. This is incredibly valuable for the scientific community but does take more work than simply putting the results in a drawer after the paper is published, so how can we make sure that the originators of data get full credit for their labour while ensuring that the data continues to be accessible in the long term? Data citation has a big role to play in the answer to this question, and this talk will give you an overview of the principles of data citation and how to implement them in practice.
Bio: Jez Cope is Data Services Lead in the British Library's Research Infrastructure Services team. He is responsible for the Library's research identifiers service in conjunction with DataCite, and for implementing the Research Data Strategy. He has over 8 years of experience developing and delivering research data management services and strategies at research-intensive higher education institutions in the UK, as part of a long-term goal to help communicate and collaborate more effectively using technology; previous roles include research data management at University of Sheffield, Imperial College London and University of Bath. He graduated from Imperial College London with an MSci in Joint Mathematics & Computing. He is an experienced teacher and is involved with grassroots-driven data & software skills training organisation The Carpentries, as a Certified Instructor and early contributor to Library Carpentry. He is particularly interested in elevating the status of research software alongside research data in the scholarly record, and helping researchers develop the skills to make the most of this.
The (long) journey from supporting information to Publishing and Finding FAIR data in chemistry – Professor Henry Rzepa: Electronic supporting information had its origins in the early to mid 1990s and it has evolved in a highly ad hoc manner since then. The concept of FAIR data arose about five years ago to try in part to rationalise the chaotic state of  ESI. The talk will illustrate these developments by presenting a case study illustrating how one (either human or AI) might use the properties of FAIR to "F"ind  some highly focused chemical spectroscopic and computational data. I will conclude by trying to unpick some of the supporting infrastructures which enable this and how the creators of the data facilitate this by using metadata to describe and then publish the data. The talk incorporates some elements of FAIR by having its own metadata and its own persistent identifier (as a DOI): https://doi.org/10.14469/hpc/7523 so that you can yourself Find, Access, Interoperate, Re-use and Cite it as appropriate.
Bio: Professor Henry Rzepa since 1971 started as a synthetic chemist and then became a computational and information scientist and a spectroscopist. These research activities have generally generated large amounts of data and early on he became increasingly concerned that this vital research product was rarely treated as what is now called a first class scientific citizen. Since 2005 he has been trying to elevate his group's data to this status, using a combination of ELNs (electronic laboratory notebooks) closely coupled to what is now three generations of data repositories, to try to achieve its FAIRdom (Findable, Accessible, Interoperable and re-usable).