18/11/2020 – AI3SD Winter Seminar Series: Topology and Applications in Chemistry
18th November 2020 @ 2:00 pm

-

4:45 pm

Free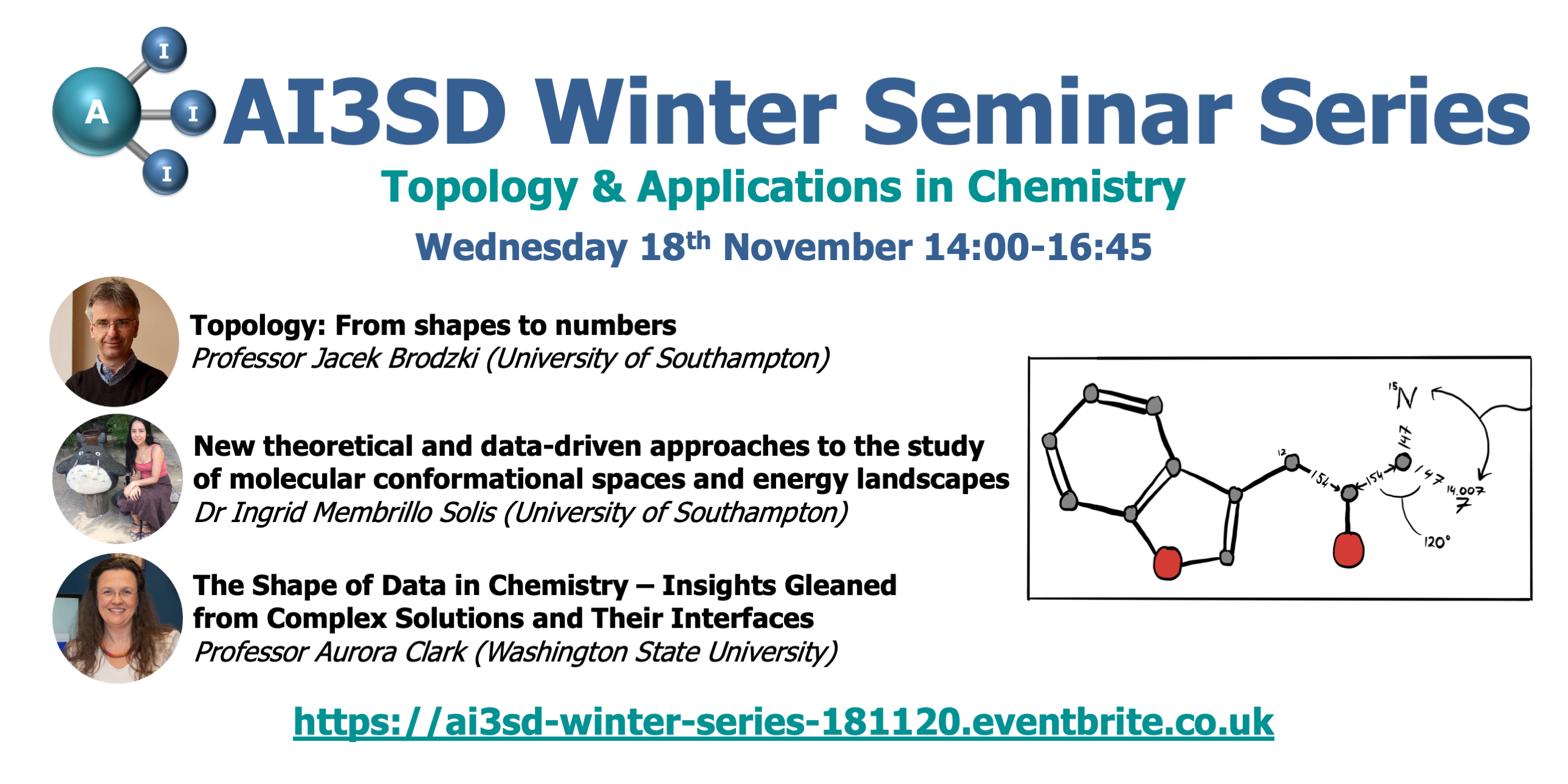 **This event has now passed, click here for event coverage**
Description:
This seminar forms part of the AI3SD Online Seminar Series that will run across the winter (from November 2020 to April 2021). This seminar will be run via zoom, when you register on Eventbrite you will receive a zoom registration email alongside your standard Eventbrite registration email. Where speakers have given permission to be recorded, their talks will be made available on our AI3SD YouTube Channel. The theme for this seminar is Topology and Applications in Chemistry.
Agenda
14:00-14:45:

Topology: From shapes to numbers

 – Professor Jacek Brodzki (University of Southampton)
14:45-15:00: Coffee Break
15:00-15:45: New theoretical and data-driven approaches to the study of molecular conformational spaces and energy landscapes – Dr Ingrid Membrillo Solis (University of Southampton)
15:45-16:00: Coffee Break
16:00-16:45: The Shape of Data in Chemistry – Insights Gleaned from Complex Solutions and Their Interfaces – Professor Aurora Clark (Washington State University)
Abstracts & Speaker Bios
Topology: From shapes to numbers – Professor Jacek Brodzki
Abstract: Topology is a branch of mathematics that concerns itself with a study of shape and how to describe them through computable numerical characteristics. While this sounds inauspicious, in the last two decades we witnessed a very rapid development of Topological Data Analysis (TDA), which has now established itself as a key part of modern data-driven science alongside machine learning and statistics. There are now very many examples of how TDA can be used to derive information from complex data sets and to provide insight into complex scientific problems. In this talk, we will introduce the main tools of TDA and to illustrate their applications to the problem of solubility of chemical compounds. The talk will also serve as an introduction to the other talks in this session.
Bio: Professor Jacek Brodzki is Professor of Pure Mathematics at the University of Southampton. He is fascinated by interactions between analysis and geometry. His current work revolves around problems in noncommutative geometry arising from the Baum-Connes conjecture, including characterisations of property A, exactness of groups and their consequences. A very important part of Jacek's research concentrates on applications of geometry and topology to modern data analysis, which was supported by the EPSRC through the programme "Joining the dots: From data to insight" (JTD). He leads a research group which works on creating a deep integration of topological data analysis, machine learning and statistics.

New theoretical and data-driven approaches to the study of molecular conformational spaces and energy landscapes – Dr Ingrid Membrillo Solis
Abstract: In this talk I will introduce new geometric models for both molecules and molecular conformational spaces. I will show that these models allow us to define a symmetry group associated to a molecule that, in some sense, generalises the so-called complete nuclear permutation inversion group. I will also present the results of a systematic analysis on the conformational spaces of molecules and their energy landscapes using topological data analysis (TDA). These results will show that TDA provides the chemistry community with efficient methods to study the mathematical structures underlying the molecular conformational spaces and their energy landscapes.

Bio: Ingrid Membrillo Solis is a research fellow at the University of Southampton since September 2018. She is currently working on problems from algebraic topology, differential geometry and topological data analysis. Ingrid os interested in unstable homotopy theory, fibre bundles, mapping spaces, actions of Lie groups on manifolds, spectral geometry of orbifolds, and their connections to other disciplines such as physics, chemistry and biology.
The Shape of Data in Chemistry – Insights Gleaned from Complex Solutions and Their Interfaces – Professor Aurora Clark
Abstract: Highly non-ideal solutions are ever-present within chemistry, physics, and materials science – and are characterized by many-body effects across length and timescale. Understanding, and predicting, many-body correlations in the condensed phase is a grand challenge for the modeling and simulation community. Yet within the data science community, a large suite of tools exist for elucidating complex, correlating, relationships amongst variables. Molecular modeling and simulation data is in fact well-suited for study by methods that include the topology of graphs, point cloud data, and recent advances in applied mathematics methods that investigate surfaces like sublevel set persistent homology and geometric measure theory. We adapt, develop, and apply these tools to study highly non-ideal solutions and their interfaces, with examples drawn from separations science. The new physical insight derived from these methods is paving the way for bespoke liquid/liquid interfaces that optimize transport characteristics for purification and synthesis.

Bio: Aurora Clark is a Professor of Chemistry at Washington State University. Her research employs both quantum and statistical mechanics to study chemical processes within complex chemical environments, focusing upon solution chemistry and liquid interfaces. This includes concentrated electrolytes, liquid/liquid interfaces related to separations science, structured fluids, and phase phenomena. To reveal the hierarchical organization and dynamic behavior in such systems, her laboratory has expanded the tools of graph theory, algebraic and geometric topology, to analyze data from modeling and simulation. Of particular interest is bridging the separate communities of applied mathematics with Chemistry and Materials Science by creating algorithms that are well-suited to simulation data and that provide new physical insight. Dr. Clark is the author of more than 100 publications and is a Fellow of the American Chemical Society and the American Association for the Advancement of Science.